We anticipate that this European state will face several economic, cultural and political difficulties this year and next. First, the rise of the euro will hurt German exports; the stabilisation of oil prices prohibits the oxygen balloon effect of prices declines of 2015; failure of the migrant strategy puts Germany face to face with all the consequences of its weak demographics (in terms of domestic consumer market and potential for wage decline); there are centrifugal tendencies within the federation particularly with growing cultural and political divergences as in Bavaria; and finally the weight of East Germany is likely to become more and more unbearable for the productive Germany in this context.
Europe has had its fair share of change and turmoil over the last century, and in few places, has this been more prevalent than in Germany. Now, Germany is a pacifist nation, refraining from engaging in global military endeavours, which have proved costly and inconclusive for other Western nations. Since 1954, and using a more measured approach, Germany has slowly, but surely, emerged not only as Europe's leader, but also as its champion. It first did this economically through its sophisticated methods of production, then fiscally through the development of its banking and finance sector and lately through the leadership of its Chancellor, Angela Merkel.
But can this level of success continue? Is Germany set to climb ever higher or start to sink into the quicksand of populist desire, which has begun to drown many a great nation?
The European Escarpment
The European Union is standing on a precipice. The electoral decisions over the next twelve months of several key member states, the agreements reached with the United Kingdom over their exit of the Union, and internal political decisions over the management of the current global crises, will be instrumental in either its continued success or unstoppable failure.
For the EU to survive and thrive, Germany needs to maintain its position as its champion. But to do so, it needs to first ensure it's healthy domestically and project that good health externally. When the world looks at the health of the EU it looks first at Germany, at its economics, its politics, its leadership, its social framework and how it manages challenge and change. A Germany in ill health and unable to cope would, to many, equate to a poorly European Union. So far, the country is standing strong, but there are many small flutters which risk to undermine its success.
European Granulomas
The EU is now traversed with the lack of desire and ability for integration – as we see across many member states: the integration of people, culture, ideals, faiths and needs is failing. We have seen this most evidently and recently through the closure of borders in Hungary, preventing refugees from transiting and the ill-sentiment towards migrants in the United Kingdom, especially following Brexit, and Western Europe in general through the rise of the populist movement. One of the many factors for the Brexit leave-vote was UK's populist desire to pull away from an ever-closer union (remember they negotiated a specific withdrawal from this policy[1]). Integrating and becoming one is something which scares many people (including the Germans); they fear losing their identity, their way of life – they fear change and for many a Federalised Europe would be a realisation of their nightmare. Germany's federal model has the potential to show everyone that integration isn't something to be frightened of.
In 2015, 2.14 million people had moved to Germany[2], which was a 46% increase from the published figures in 2014. With just under 1 million people leaving the country over the same period (which was also a rise of 9% on the previous year), the net immigration result was 1.1 million; the highest level in the country's history[3]. In 2016, Germany received 280,000 asylum-seekers, less than a third of the 890,000 total in 2016 at the height of the crisis[4].
Nevertheless, integrating this number of people into various communities brings with it logistical and financial challenges and whilst the initial response of the German population was very positive (including mass welcoming parties at train stations and people opening their homes to strangers to stay whilst they find accommodation – known colloquially as the spirit of Willkommenskultur[5]), this air of positivity quickly diminished as the realities and challenges faced by such a large influx of people hit home. There have been many protests[6], some of which turned violent[7].
On a Wing and a Prayer
Angela Merkel's decision to open Germany's borders was an enormous political gamble. And for all intents and purposes, one which has spectacularly backfired. It dramatically underestimated the willingness of the German, and wider European people, to integrate non-Europeans (largely Middle Eastern) into the union in a context of economic crisis. It failed to predict the effect on Germany's EU partners, such as Hungary and EU neighbours, such as Turkey; leading to huge costs (currently 6 billion euros) and concessions with Turkey over Schengen visa access and the speed of EU membership (even though the latter is still almost certainly never going to happen)[8]. It is also a decision which likely pushed the Brexit vote over the edge and into the leave camp. So why did Angela Merkel cross her fingers and risk her political career and the de-stabilisation of Europe in the process? Well, whilst the management of the influx of these refugees was costly (both financially and politically – in fact many now call Angela Merkel's announcement, as her biggest political blunder), if it had been managed more carefully, over the longer term, it would have served to benefit Germany and the wider EU.
Nimby
Getting ahead of the curve was a move of leadership by Angela Merkel. The refugee crisis emanating from Iraq and Syria was going to hit the EU eventually, whether Europe wanted it to or not. Germany cannot afford to isolate itself whilst at the same time being part of globalisation and being an economic model. Nor could the EU more widely have closed all borders and sat on its hands whilst countries such as Turkey and Lebanon did all the work. As a leader of the European Union, it was a brave and necessary proactive move to lead other member states by example. There is a general human tendency to want to help those in need, but the "not in my backyard" (Nimby) mindset often hinders action and Merkel's refusal to succumb to it should be commended. If integrated correctly, Germany can still gain some prosperity with this fresh influx of migrants.
The Decline of Parturition
As we will touch on later, Germany's economy is booming (for now at least). But, critically, its population-size is not. Germany has one of the lowest birth-rates in the world. With a median age of 43, it is in need of young blood. Younger people are essential to work in factories and the service industries – and of course to pay taxes to ensure the financial stability of the aged populace. Germany needs people. There is one fact that cannot be denied: Germany (along with almost all developed national states) needs immigrants to survive long-term. During 2017 the population of Germany is estimated to reduce by over 51 thousand people. The number of deaths in Germany outweigh the number of births by approximately 100 deaths for only 77 births per hour. The world-wide population increased three-fold between 1900 – 2000 (1.5b to 6.1b), but as developing countries continue to progress (rapidly) through the demographic transition (from high to low birth and death rates, at three to four times the speed the current developed nations did it in), this increase in global population will slow and eventually halt, peaking at approximately 11 billion people in 2100; with the United Nations forecasting that the 12th billion human will never be born at all. Germany, and the wider EU, needs to be an attractive place for people to want to move to, if it is ever going to have a long-term future.
This recent influx of refugees has meant that Germany's population is no longer shrinking after four years of continuous high net migration, taking the population to almost 82 million. But for how long can this trend continue? Not long it seems, as long-term predictions highlight that by 2060, Germany's population will fall to around 73 million, even with a net migration level of 300,000 people a year[9].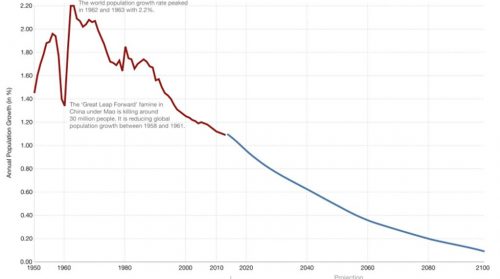 Global population growth has peaked long ago. Source: Our world in data.
The Big Backtrack
Despite Germany's need for people and the potential economic advantages of migration, to save her political career and give her any chance of re-election for the fourth time, Angela Merkel has had to row-back on her open-door asylum policy and look to return as many as 100,000 migrants (some by force) back to their country of origin and has recently changed her tone on immigration policy, focusing in on those in genuine need and not those who migrate for economic reasons. The bowing to fear is necessary for her political survival, but potentially at the expense of Germany's economic future. Angela Merkel will seek her fourth term in office this year and despite the crisis, the desire for stability and a known entity might be too enticing for the Germans to elect anyone else, even though Martin Schulz could grow as a significant challenger in the months to come.
At the heart, it's all about the Money …
Whilst most of Europe stalls or remains stuck in the first gear of economic recovery, Germany is showing the world that it is cruising in top gear with a low unemployment rate of only 4.1% (a 35-year best)[10], and a highly productive and resilient manufacturing base. Germany's economy grew at its fastest rate for five years, but we anticipate that it is difficult to maintain this level of growth without significant investment in its infrastructure and a kind favour from the euro – which is unlikely to be given, as we anticipate a rising euro rather than the contrary this year. (because of the  questioning of the ECB's QE[11] and of Turmp's weak dollar policy mostly).
There is also the concern over the potential for a protectionist US trade policy now that Trump is US President (and we anticipate that this protectionist strategy will be implemented quickly and sharply) and high levels of state interference in China. The Cologne Institute for Economic Research warned that the trend of wages rising ahead of productivity levels is hurting export performance and increases the risk that Germany could start to lose market share[12].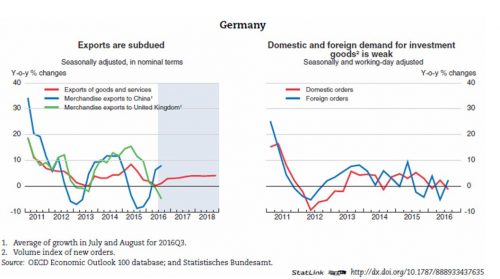 Average Growth in Q3 2016 and the Volume of New Orders. Source: OECD
Britain is Germany's third-most important export market, and the continued uncertainty over 'Brexit', not helped at all by the abhorrent lack of direction on the matter within Her Majesty's Government, will hinder further German growth this year. We predict that the pound will fall against the euro as Britain will fail to secure a favourable deal for her exit; further hurting the German export market (knowing the German exportations represent around 40% of the German GDP!)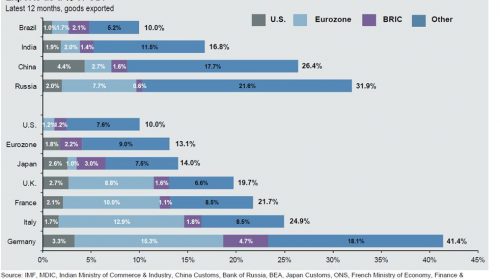 Exports as a percentage of the GDP, 2013. Source: ZeroHedge.
Germany has some potential for success from Brexit: Frankfurt will be keeping a close eye on London over the next twelve months with a view to becoming Europe's financial hub, once the City of London has left the EU in mid to late 2019.
Germany's Gross savings as a percentage of its GDP stands at a healthy and 43 year high of 27.7%[13] highlighting a resilient economy, but with oil prices set to stabilise and significant uncertainties yet to be resolved over the future of the EU, we anticipate that Germany will experience a general upsurge in economic difficulties this year.
The East Weighs Heavily on Germany's Shoulders …
2015 marked the 25th anniversary of the unification of East and West Germany; but although the country is, obviously, much more unified now that the wall and curtain have been taken down, the West still carries the East when it comes to areas such as GDP, average salary and unemployment. 25 years is not a great deal of time to re-unify two groups of people and Germany has done well; but there are still visible differences between the two sides which deserve to be noted, especially when giving the state of Germany a health check!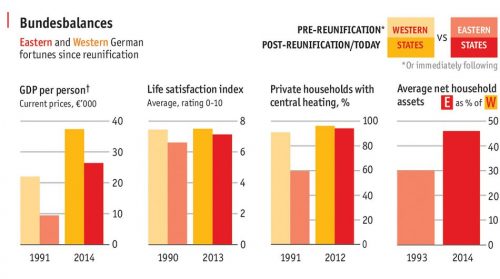 Germany's reunification 25 years on. Source: The Economist
 There are also still some large cultural and infrastructural differences between the two sides. In the West, BMW is the choice of car over Skoda; whereas in the East, the opposite is true. If you are West German you are more likely to vote and you are more likely to be optimistic about your future.[14]
Overall, the World Happiness Report of 2016 has Germany, as a whole, sitting at a very respectable 16th out of 157 places[15]; beaten only by Austria and Denmark (which tops the list, by the way!). This report scores countries on their GDP per capita, amount of social support, life expectancy, freedom to make choices, level of generosity, perception of corruption and dystopia level.
So, Germany is largely a success when it comes to the integration of its people, but with the current problems facing Europe and the rest of the world, the cracks between East and West will begin to widen; with the migrant crisis being the catalyst, and Brexit and Trump (with his anti-EU agenda) continuing to douse fuel on the fire. We see the average German mulling over the future, wondering what is going to happen, working hard and saving harder in preparation for an unfavorable outcome. We must wait and see how much traction the populist movement has within other countries inside the EU this year before we can understand fully its impact. There are cultural, economic and political centrifugal forces stirring away within this heart of Europe; all of which is causing an arrhythmia for now, but by the end of 2017, could very well cause an irremediable cardiac arrest. (Excerpt from the GEAB No 112 / 2017)
—————————————————————
[1] In its Council Conclusions of 19 February 2016, the EU recognised that the United Kingdom would not be committed to further political integration into the European Union and references in the Treaties to creating an ever-closer union would not offer a legal basis for extending the scope of EU legislation or an extensive interpretation of the competences of the EU. Source: LSE, 28/04/2016
[2] In 2015, Angela Merkel announced to the world that Germany was open to all who needed a safe-haven, prompting a mass influx of migrants and refugees – mainly from Syria and Iraq.
[3] Source: Express, 14/07/2016
[4] Source : USAToday, 11/01/2017
[5] Source: Wikipedia
[6] Source: Express, 31/07/2016
[7] Source: Reuters, 09/01/2016
[8] Source: Keeptalkinggreece.com, 08/02/2016
[9] Source: The Guardian, 06/01/2016
[10] Source: Trading Economics, 2016
[11] Source : Bloomberg, 14/02/2017
[12] Source: Reuters, 13/01/2016
[13] Source: Worldbank
[14] Source: The Berlin Institute, July 2015
[15] Source: World Happiness Report, Feb 2016