Why him? Mukesh Ambani is not an emerging and promising young beginner. On the contrary, the 61-year-old has already made his mark as an Indian business magnate at the head of a conglomerate named Reliance Industries Ltd (a family business inherited from his father) that specialises in the petrochemical industry (being the world's largest producer of polyester). He is also in the retail sector (Reliance Retails, 2006), logistics, telecommunications (JIO in 2007 and LYF in 2015), media (N18-TV18, 2014) and research (biotechnology, health, new technologies like solar industry…). His personal fortune is valued at $54.2 billion (13th in the Forbes ranking /16.04.2019).
The Western vision remains locked within today's bipolar world – a world divided between the United States and China, in which the tentacles of each empire also extend to other regions. Thus, India is challenged by both the West and China – and what better illustration of this than the new technologies and the battle of other countries against the monopolistic empires represented by GAFAM or BATH.[1] Remember, the world is multipolar, and whatever the situation of BRICS currently, this club has allowed each of its members to distinguish themselves in this environment.
This is precisely where Ambani represents, in our view, a revealing figure of the future.
Three years ago, this businessman set out at a 3S speed to conquer the Indian market via telephony, the Internet, the Internet of Things, online distribution, e-commerce and a market of 1.2 billion Indians, young and full of promise. He did this with the clear aim of dethroning both Amazon and Walmart (the latter having acquired Flipkart) in the Indian distribution market and online commerce. Indeed, these two American structures alone represent 67% of the online sales.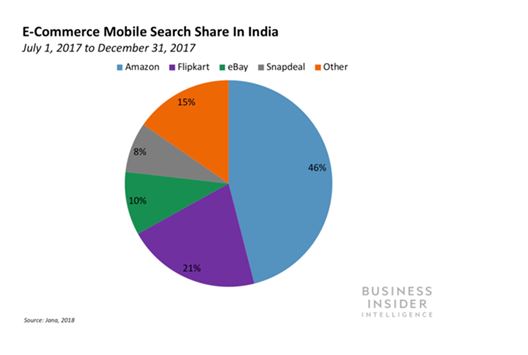 Figure – Market shares in the e-commerce sector in India (note that Flipkart was bought by Walmart in August 2018). Source: Business Insider.
Read more in the GEAB 134 / 2019
_____________________________
[1]      H as in Huwaï.