The sequence of the American withdrawal from Afghanistan followed by the creation of the AUKUS (for Australia, UK, USA) alliance symbolises the US pivot from the Middle East to China. This is an opportunity for us to republish an excerpt from our analysis of the potential economic pain of a US decoupling from China. The full article was published in April 2021.
To be one step ahead of the global geopolitical developments, register for the GEAB!
—————————-
Excerpt from GEAB 154 / April, 2021
The economic pain of a US – China divorce
America is losing precious time and dragging its "allies" into painful strategic chaos. As far as the EU is concerned, the NATO-Russia crisis of 2014 caused heavy losses to the European economy.[1] But what about sanctions against Chinese strategic enterprises? As we have seen, Europe:
. is facing a shortage of semiconductors as it launches its digitalisation project[2]
. risks seeing its Parliament reject the EU-China global agreement on investments[3] that it negotiated from a position of strength, obtaining all the guarantees it wanted[4] from a China anxious not to get angry with Europe on the eve of the American Democratic changeover (this agreement is designed, in particular, to facilitate the access of European investors to China and to balance the EU-China investment balance)[5]
. could see technology transfers come to a halt due to nationalist tensions[6]
. may see its renewable energy program slow down if it can no longer get its hands on Chinese solar panels, rare earths and electronic components for wind turbines[7]
. and so on…
For emerging countries but also developing ones, the US sanctions against China represent bad news. For the past 10 years, these countries have embarked on impressive development trajectories which owe much to China directly (both through its investments and the new approach to development it proposes)[8] and indirectly (thanks to the diversity of sponsors lining up at their door).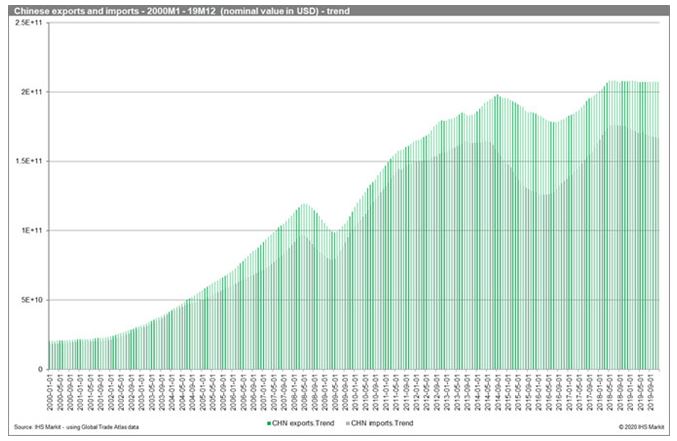 Figure – Evolution of Chinese trade over the last 20 years. Source: IHS Markit, 2020
While it is undeniable that the world must learn to detoxify itself from its dependence on China, it is only by cooperating with the latter that it will succeed. For example, an American study estimates the cost to the US economy of a sudden economic decoupling of the two countries at USD 1 trillion.[9] Can America really afford it?
The dangers of Western blindness
Westerners understand that China is moving from the status of a factory to that of a power, threatening their own; but they are not vigilant enough about the attractiveness of the Chinese model in the eyes of a growing part of the planet.
It is true that China's image is suffering from the Western media war machine, which has accelerated since 2018,[10] as shown by the Pew Research surveys.[11] But, on closer inspection, this negative image is also due to the fact that public opinion now sees China as the world's greatest power… ahead of the United States.
Anti-China rhetoric is therefore a new cause of disconnect between pragmatic governments who may increasingly realise that they cannot afford to divorce from China on the one hand, and their media- and election-driven public on the other. This represents a very serious threat to either peace or democracy. He who sows the wind, reaps the whirlwind… Let's hope it is still possible to rationalise this debate…
———————————
[1]      Source: Vienna Institute for International Economic Studies, 20/02/2019
[2]      Source: 'Chip Wars': US, China and the battle for semiconductor supremacy, TRTWorld, 16/03/2021
[3]      Source: China Briefing, 26/03/2021
[4]      Source: European Commission, 30/12/2020
[5]      One can then understand the damage of the ideological positions of intermediary structures (media, parliaments) on the interests of Europeans. Source: Merics, 17/04/2018
[6]      Transfers that the Global Agreement on Investment would boost and secure… Source: NatLawReview, 14/01/2021
[7]      Source: Euractiv, 05/10/2020
[8]      Source: How China is reshaping International Developement, Carnegie Endowment, 08/01/2020
[10]    Interesting to read the anticipation that The Diplomat made in 2010 (a magazine that always publishes balanced articles on this subject, diplomacy oblige…). Source: The Diplomat, 05/10/2010
[11]    Source: PewResearch, 06/10/2020