The dollar is becoming a currency like any other. Also, oil is following the same path and becoming a source of energy like any other. First, have a look at the following graphs of global energy and oil consumption; one from the International Energy Agency (IEA – US) and the other from OPEC; two sources that cannot be assumed to be partial.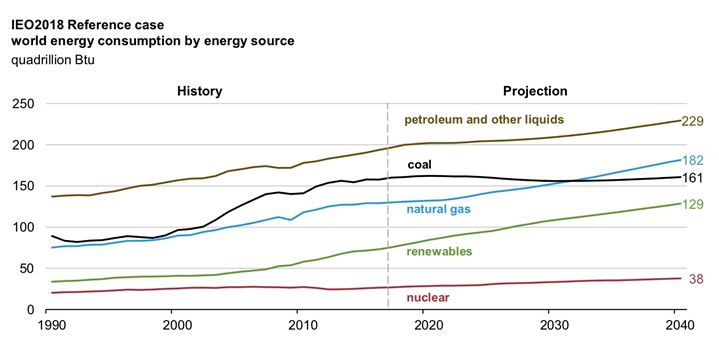 Figure 1 – World Energy Consumption, 1990-2040. Source: IEA.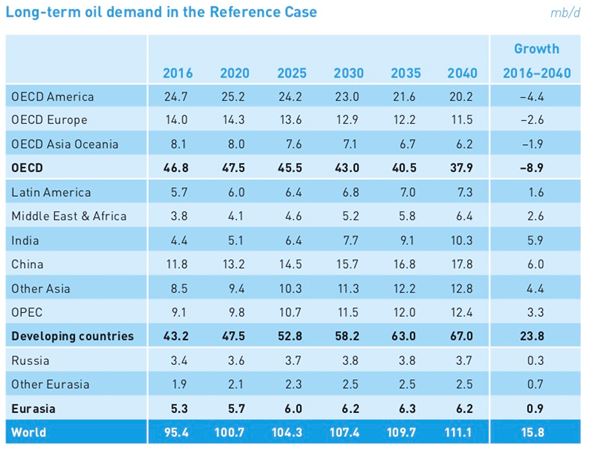 Figure 2 – Global Oil Consumption, 2016-2040. Source: OPEC.
These data invite two illuminating observations:
The IEA includes 'petroleum' and 'other liquids' (mainly agrofuels) and therefore doesn't tell much about the consumption of oil specifically
According to OPEC data, oil consumption in OECD countries will decline by more than 20% between 2020 and 2040. And globally, it will grow by only 0.5% per year during the two decades (compared with 1.8% per year between 2009 and 2019, for example[1]).
The fact that these two entities, the judge and the judged, are pessimistic already says a lot. Even they can no longer completely hide the dark future of oil. Nonetheless, the reality is probably even more bitter. In fact, several factors are combining towards a drastic decline in consumption (not to mention world production, which is also showing visible signs of slowing down[2]). Since 50% of oil is used for road transportation,[3] let's analyse, in a nutshell, the future of this sector:
The huge increase in sales of electric vehicles (+50% in one year, x10 in 4 years[4]), especially in China, where this nascent industry can compete much more easily with Western manufacturers, is reducing the amount of oil consumption[5] because the share of electricity produced from oil is insignificant (about 2.5%). According to estimates, we are talking about 200 to 500 million vehicles by 2040.[6]
Other vehicles are seeing their fuel consumption decline year on year, as is evidenced by the following projection for the US. Perhaps more importantly, with urbanisation reducing the importance of the car, new societal, economic and technological models being implemented (shared vehicles, fleets of automatic cars for hire…) and more and more stringent regulations to combat pollution (in China and India) or global warming (in Europe), the total number of vehicles in circulation will be reduced and will probably not reach the 2 billion often predicted for 2040.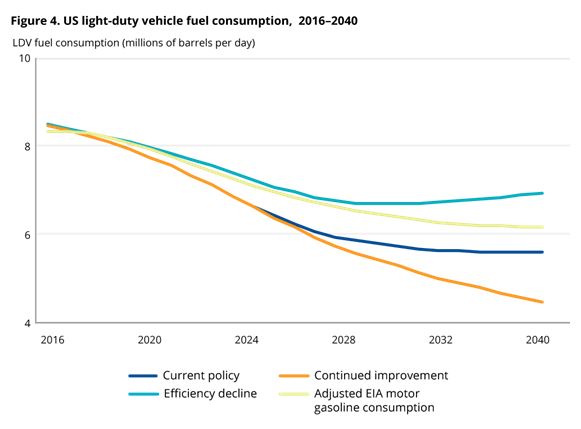 Figure 3 – Total light-duty vehicle fuel consumption in the US, 2016-2040. Source: Deloitte.
Meanwhile, global warming as well as energy savings in the building sector will lead to a decline in heating which accounts for about 5% of oil use (the possible rise in electric air conditioning will not produce a rise in the consumption of oil). Moreover, to aid their survival, oil producers are developing alternative forms of renewable energy. The seesawing of oil prices also favours the abandonment of this energy. Almost all countries are actively saving energy…
The future of oil is not bright. Global awareness of the decline is helping to further accelerate the change. That is why the oil price cannot return to high levels permanently. Yet global energy consumption will continue to grow until 2040, driven by China and India, in particular. Will there be a substitute for oil? Most of the energy that eventually replaces oil, as we have seen, will be electric. How will it be produced? The future of nuclear power is uncertain until new technologies are developed;[7] the share of renewable energies for electricity generation (about 5% currently excluding hydroelectricity) is not growing fast enough to replace oil; coal is despised. But there is gas; abundant, less polluting and easy to use… though not renewable. Most probably, it will be the appointed medium-term successor of oil. Incidentally, it is not surprising that the US has done everything possible to extend the oil era with their shale when we see the list of countries with the largest gas reserves…

Figure 4 – The top five countries with natural gas reserves, 2016. Source: Wikipedia.
In the light of this, we allow ourselves to correct (see below) the IEA graph presented at the beginning of this article. Let's make a quick calculation: 25 to 30% of non-oil cars in 2040 means 15% less oil consumption (cars account for half of oil consumption). A 20% reduction in oil consumption for those remaining would mean another 10% less oil. A 10% energy reduction in all other sectors would mean 5% less oil. Hence, we reach a 30% decrease in 2040 as compared to 'business as usual' consumption. If the 'business as usual' scenario consisted of a rise of about 1.2% in oil consumption per year (as in the period 1990-2018) and taking into account the 30% decrease that we evoked, we shall obtain, in 2040, a 10 to 15% decrease in oil consumption compared to 2020. Hence a tipping point in the oil curves around 2022, offset by a gas rise, with a reversal of trends around the year 2035. A relative decline certainly, but with heavy consequences in this essential field. A change of leader is in sight: Watch out for turbulence in an energy market where everything is a matter of "futures" and anticipation …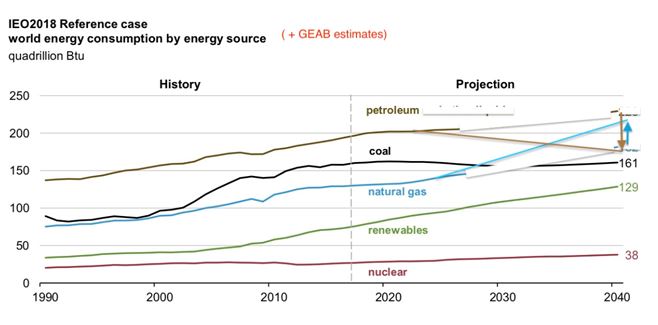 Figure 5 – World energy consumption by energy source according to the GEAB, 1990-2040. Source IEA.
_____________________________________
[2] Source: The oil man, 01/11/2018.
[5] Read for instance Bloomberg (27/02/2018) for the US case.
[6] Sources: IEA and  Enerdata.
[7] Read more on this theme, which is of interest to us: 'Natural gas – not renewables – is replacing nuclear power' (Forbes, 16/05/2016).