Geab.eu also is going through a period of systemic transition! Further to a long process of consultation, reflection, construction and implementation, the new GEAB site is ready to be presented to you at this end-of-year holiday season!
Many thanks to those of you who took part in the early stages of this transformation by answering our written and oral surveys. It was a great pleasure to talk with you, to get to know and understand you better.
Since it was created 13 years ago, the GEAB has had a special relationship with its readers. Each issue provides an opportunity for new intellectual exchanges which are all part of our countless sources of analysis and we invite you to continue to offer your thoughts and not to be put off by the more modern environment of our new site. As a matter of fact, a 'comments' option has been put in place to help bring us closer together.
This new site aims to make the GEAB easier to read (a simplified interface, improved responsiveness to mobile phones, diversity of reading modes and the presentation of short articles within the Insights section). It also aims at making you feel more proud of your publication, which is taking on a new lease of life and winning even greater credibility for a content that is stronger than ever.
But this site is only a tool. The soul, flesh and blood of the GEAB remain, of course, our team, our readers and the unique relationship that brings us together around this common project which aims for a more clear-sighted view on the world – for a better 'intelligence of the future'.
Let's use this site to get closer together!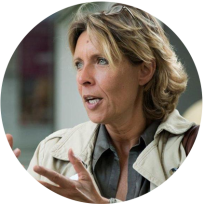 Marie-Hélène Caillol
P.S. Allow me to give you a brief overview of the site:
Note the clearer, more open and modern interface conceived by our graphic designers.
Scroll down to find the three main headings on the home page: GEAB 130… (the latest issue), Insights (a new heading) and WWNews (the press review).
Find out, for example, more about our team, which we have never presented so well.
Locate the log-in "boltman" button in the top right corner. This is where you enter your codes in order to access the 'subscribers' version of the site. Remember to change your password. The security level has been increased!
Browse through the 'subscribers' version; magically, all the articles on the site are freely disclosed!
If you prefer, you can return to the PDF or e-Pub versions of each issue.
If you are not or no longer subscribed, why not treat yourself!
Remember that Geta Grama-Moldovan remains your human contact for the site, GEAB and LEAP:

[email protected]