17 Up et 16 Down
Each year in December, we release an evaluation of our anticipations presented last January. This time, we end up with a final score of 22.5 out of 33 key tendencies, meaning a 68% success, 7 points less than last year (75%). Here is our success rate graphic: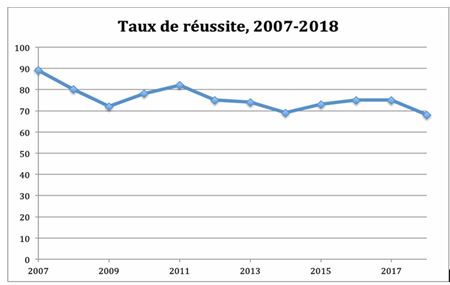 The view we presented at the dawn of 2018 was too full of optimism; an optimism justified by the hopes given to us by the French presidency… a visionary one for sure but which failed to take on board the relentless nature of the nationalist trends in Europe. Though we perfectly know and keep anticipating the end of the trans-European dynamic and the rise of nationalisms, we could not help thinking for a moment that France could turn things around.
Our vision will have been right for part of the year, but then things got complicated and the summer resolutely shifted the world in this rationale long anticipated by us – a bipolarisation into Chinese and American camps – which we actually hoped would move away between Emmanuel Macron's election and the 2018 'summer of perils' as we called it in June.
The end of the year is annihilating all these hopes, forcing us to grade our 'up & down' anticipation more severely than usual, even though, over a significant part of the year, the same evaluation would have been more favourable. This rate of success, the lowest we have had in the 13 years since we began, also results from a false anticipation that affected some others – the weakness of dollar.