Since the 2014 Newport Summit, NATO has been proud to have obtained from member states a reaffirmation of the famous principle of 2% of GDP allocated to military spending.[1] But the reality is darker.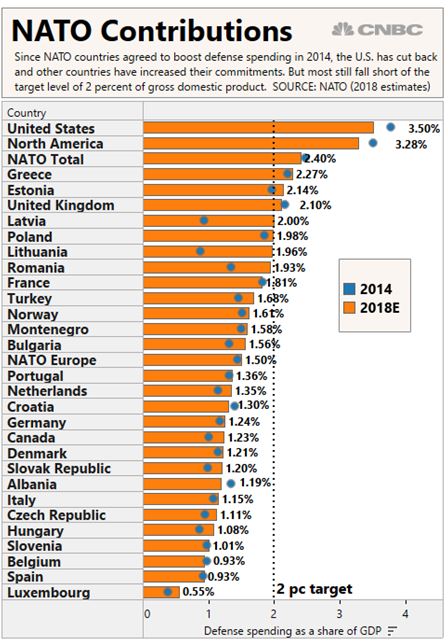 Figure 1 – GDP share allocated to military spending, by country, 2014 and 2018. Source: CNBC.
Even though Trump or NATO managed to obtain some significant share increases from small GDPs like those of Lithuania (a 47 billion dollar GDP in 2017), Latvia (30 billion) and Romania (212 billion) and some small share increases from large GDPs like those of Turkey (851 billion), the Netherlands (826 billion) and Canada (1,653 billion), the above graph shows that:
The United States (GDP $19 trillion) is reducing its spending as a proportion of its GDP
This decline is not offset by the Canadian increase, given that the North American contribution has actually declined
The contribution of the whole of Europe (GDP of 17 000 billion) has increased, but in a very marginal way
In fact, the average share of GDP spent on military spending by NATO member states has slightly declined
Given the fact that these amounts are percentages of GDP, it is interesting to note that the EU's GDP has decreased compared with 2014. The very slight rise in percentage of European military spending corresponds in fact to a decrease in absolute value.[2] Ditto for Canada.[3] Only the US GDP has increased over this period of time,[4] in this case, reducing the decline of that country's share.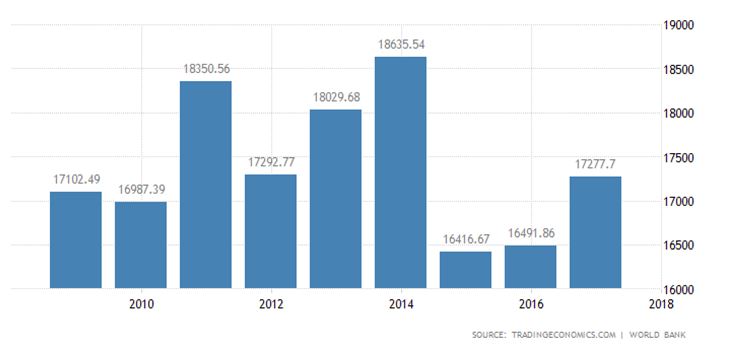 Figure 2 – GDP of the EU in billions of dollars, 2009-2017. Source: Trading economics.
The NATO budget,[5] voted in December 2018, is comprised of 250 million euro (civilian) and 1.4 billion euro (military).[6] The total military expenditure of NATO members is around 1,000 billion euro.[7] This panorama of spending within NATO seems encouraging, but without a strategy for progress via growth and especially optimisation (less dissension, better participation of various countries etc.) it will not allow NATO to face the new defence challenges of the Western world.
According to NATO's reports, here are three of the main challenges of adaptation: [8]
Asymmetric war (terrorism, IS…).
Cyber war (with an increasing Chinese and Russian technological advance gap).
Space war (strategic satellite attacks …).
Given the magnitude of these adaptation challenges, it is understandable that, without the ability to reach an agreement…Register here and read the full report in the GEAB 134 / April 2019
_____________________________
[1]      Source: Bloomberg, 15/03/2019
[2]      Source: TradingEconomics (Europe)
[3]      Source: Trading Economics (Canada)
[4]      Source: Trading Economics (USA)
[5]      Direct contribution of Member States to NATO, not including the cost of troop shipments by the various countries.
[7]      Military spending of NATO members, aggregated by NATO. Source: NATO, 10/07/2018