Crypto-currencies, of which Bitcoin is the most popular, are "virtual" currencies devoid of any physical reality, possessing an electronic form and functioning by using cryptographic methods. They are used specially as a means of payment in an innovative decentralised peer-to-peer system. With the Bitcoin and the other crypto-currencies, one can buy everything from food products, company shares, to false driving licenses and even Kalashnikovs.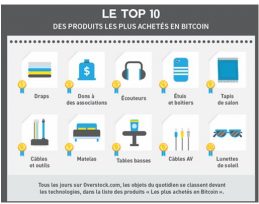 Figure 1 – Source: Journal du Geek. The most purchased items in Bitcoins
It all goes back to the subprime crisis in 2008/2009, when the monetary, financial, banking and stock market system broke out in a crisis that threatened to upset the world system as we have known it since 1945 and which our GEAB team has reported on since 2006. A systemic global crisis that would drag the economic and financial world into abyssal depths never before reached, sweep away many of its players and de facto force institutional powers (states, central banks, European or international institutions such as the IMF …) to strengthen the control of this parallel universe(s) and financial repression in order to save what could remain of the sovereignty of their currencies, to face the foreign exchange war, to ensure the control of the movement of capital , to bail out debts and balance sheets, mainly on the back of taxpayers and with austerity policies imposed on the people.