This article was written by Naël de la Sayette, a civil nuclear power consultant.
The invasion and war in Ukraine have brought to light the fragility of the European energy supply. The return of the theme of the sovereignty of Europe, but also (or above all) of the European states, has been confirmed in the public debate, a theme already in vogue since the health crisis. The end of Russian gas (and oil)[1] supplies was combined with a crisis in the French nuclear power industry,[2] causing major difficulties for the entire European economy.[3] Despite some reluctance, the nuclear industry is now considered in Europe as one of the answers to the energy crisis. As a visible sign of this euphoria, the International Atomic Energy Agency estimates in a report that nuclear capacity should double between 2020 and 2050.[4] This desire to build is confronted with problems that are difficult to solve: the large number of projects underway and their scale come along with challenges in fields like recruitment, financing, and strategy management for the States.
A lot of work is already underway
The nuclear industry is undergoing a remarkable comeback.[5] The Chernobyl disaster in 1986 and the Fukushima incident in 2011 had a strong impact on the number of students who chose nuclear courses.[6] Today, technological innovations, geopolitical, energy and climate difficulties, President Macron's Belfort speech in 2021[7] and the 'green' label granted by the European institutions to gas and nuclear power in July 2022,[8] have brought the industry back to the main stage, according to several French,[9] Czech[10] and British[11] surveys. In a new development, this revival of popularity is also observed in countries which took the decision to go nuclear, such as Germany[12] and Belgium.[13]
In Europe, two countries are currently the focus of attention in terms of construction projects: Poland and the Czech Republic. In Poland, the rapprochement with the United States took place in an agreement signed in 2020. On Monday 12 September 2022, Climate Minister Anna Moskwa announced the construction of 6 reactors.[14] The initial project should be completed by 2043 at the latest.[15] At the moment, three bids are still in the running for the construction of these reactors: Westinghouse (USA/Canada[16]), EDF (France) and Korea Hydro and Nuclear Power (South Korea).[17]
The Czech Republic has notified the European Commission of its intention to build new nuclear reactors in March 2022.[18] Prague hopes to have its new reactors in place by 2036. The same three companies are expected to bid for the contract.[19]
Finally, French President Emmanuel Macron announced in February 2022 the construction of six nuclear power plants,[20] and the French company EDF announced that it had launched the studies necessary for this project.[21]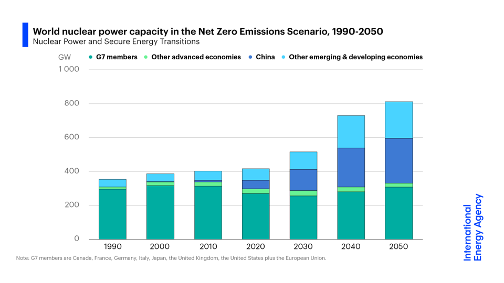 Figure 1 – World nuclear power capacity projections to 2050. Source: AIEA et SFEN