Perspectives
The Global Systemic Crisis at the end of 2018: A day of reckoning… or How ASEAN will save the world
The reinforcement of the transatlantic relationship,[1] secret operations on all sides,[2] skirmishes between the Chinese and North Americans in the China Sea,[3] trade wars, hard rights rising, warning shots on financial markets[4]… It looks like the world is about to switch to "something completely different" (as the Monty Pythons would say). An explosion of markets? Cold War? Hot war? Or labour pains?
We invite you to read carefully the 'calendar of future events' we are presenting in this bulletin. It clearly reveals that the October-November 2018 period represents a gigantic tipping point for the global systemic crisis that we have been analysing since 2006. Huge restructuring energies are emerging, particularly around ASEAN, in the context of US sanctions against Iran and with mid-term elections in the sights. All this is enough to upset the financial markets which do not know what sauce they will be served with.
And now for a set of explanatory proposals…
4 November: Iran versus the world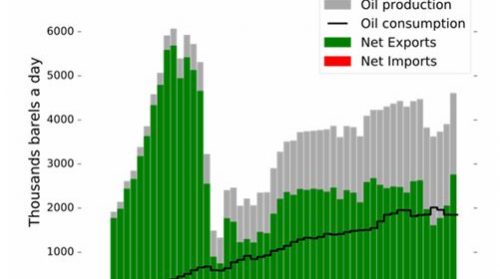 Figure – Oil production and consumption in Iran (thousands of barrels / day). Source Wikipedia (By Raminagrobis)
Our readers know how much attention we pay to the strategy of the Saudi-Israeli-American camp concerning Iran.[5] The battle going on since Donald Trump announced the withdrawal of the US from the Iranian nuclear deal really deserves the prize for the most breathtaking scenario at the next Oscars. The question arising in this final period before the implementation of the sanctions is as follows: Can the world support the freezing of its oil reserves if the mullahs' regime does not make a move? But as the deadline approaches, with Iran having resisted pressure, the world is getting frantic about circumventing these sanctions. Clearly, it is unable to support the withdrawal of the 157 billion barrels of Iranian reserves from the market. Hence, Iran is winning this standoff and it is the US, Israel and Saudi Arabia which are likely to find themselves isolated. So, what is on the next page of this script?
The case of journalist Khashoggi, in which Turkey is accusing Saudi Arabia of assassination in its consulate in Istanbul, is a new twist, providing a tangible expression of the unsustainability of imposing the 4 November deadline, thus forcing a reversal of the situation with respect to Iran. Indeed, this case is causing a complete turnaround of the international community vis-à-vis Saudi Arabia and is clearly playing in favour of Iran. So close to the deadline of 4th November, the exploitation of this case by the actors concerned is not by chance. One might even wonder if the oil sector, anticipating relative failure of the sanctions against Iran, does not see there the occasion to create a new front of reserves' freeze to maintain oil prices high… though that sounds like madness and inevitably a counter-productive strategy. ... Read