In view of Narendra Modi's very probable re-election in 2019, it is time to take stock of the Indian Prime Minister's first term; a somewhat mixed balance sheet, both economically and politically. The partial failure of the demonetisation scheme, the numerous SME bankruptcies, the prospect of a rural exodus of nearly 600 million people over the next two decades, the formation of oligarchic businesses, the clear authoritarian drift in the way of governing, growing inter-religious violent acts and rising inequalities are all presenting a worrying image of the future for this huge country which dreams of outperforming China in less than twenty years. To do this, India will need to rely on foreign investments (FDI – Foreign Direct Investment, to be threatened by prospects of country insecurity) whilst simultaneously maintaining some protectionism. Modi's India is full of paradoxes and rapid development through growth redistribution around the world is not easily achieved, as it is threatened at many levels of society. That said, this laborious road towards modernisation is to be positioned within a strategy which will extend over at least twenty years.
In 1961, Deng Xiaoping launched in China a 'growth at any cost' strategy on the basis of his famous formula, 'It doesn't matter whether cats are black or white as long as they catch mice'. In 2014, Narendra Modi applied the same approach to his country. But the road will be long and Indian cats could take on some really worrying colours…
A mixed assessment of the 2016 demonetisation scheme 
The major demonetisation scheme is far from having achieved its objectives as part of the reform of the economic structure of Indian society. Its main merit is to have pushed a large proportion of India's citizens to open a bank account for the first time (about half of the population).
Announced on 8th November 2016, to everyone's surprise, including the bankers', the scheme stipulated that all 500 and 1000-rupee notes (representing more than 80% of the currency in circulation[1]) were to be withdrawn from the market. The population was given 50 days to either deposit those notes in bank accounts or exchange them for new notes. The main purpose of this announcement was to take the black market by surprise in order to eliminate dirty and fake money from the Indian economy. The idea was that those who possessed this type of wealth would not come to exchange it or deposit it in an account and the undeclared and counterfeit cash would thus be ejected from the system, with the rest remaining in the coffers of the central bank. A largely beneficial move for the Indian state[2].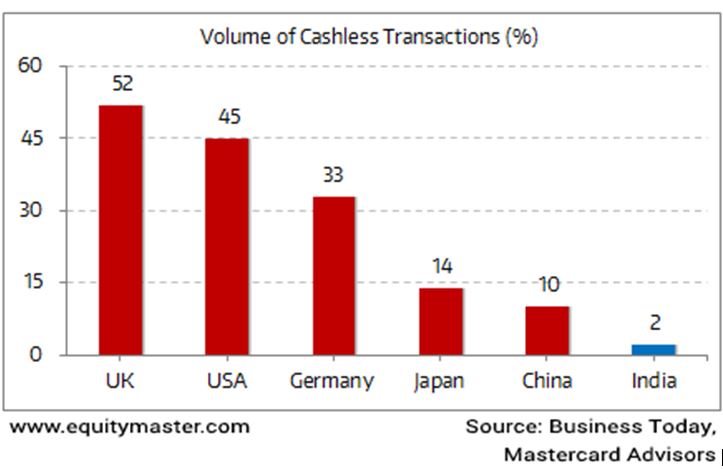 Figure 1 – Percentage of cashless transactions in various countries, 2016. Source: Equitymaster
Things didn't go quite as planned: 97% of the demonetised banknotes were returned to the banks and the estimated 45 billion rupees profit for the Central Bank never materialised. The reason for this was that very little cash is actually stored by Indian black-marketeers, who prefer to invest in jewellery or real estate property. The small amount of cash with which they were stuck was either exchanged in a cleverly diverted way or by forcing weaker people to exchange it for them. As for counterfeiting, fake 2000-rupee notes came out almost at the same time as the real ones[3].
Still this action will have a visible effect on dirty money circulating in the real estate sector: It is much more difficult these days to launder money through the purchase of apartments or houses, so the demonetisation plan will have greatly disturbed the tranquillity of this market which used mostly cash payments.[4]
An additional objective of this scheme was to change the consumers' habits, as they used cash for almost all of their transactions, a trend which, in the months following the scheme's announcement, was largely halted… But this was not because Indians were willing to follow their government's advice. Rather, it was a consequence of the lack of liquidity following the rush to the banks after the Prime Minister's announcement. Thus, ATM withdrawals, after a significant decline in December 2016, increased again in the first half of 2017 to a reduction of only 15% six months after the plan started. The same pattern was observed for credit card payments, which experienced strong growth around December 2016 and January 2017 before going down again in March 2017 and finally stabilising in May, following a still visible drop of 23% between January and May 2017.[5]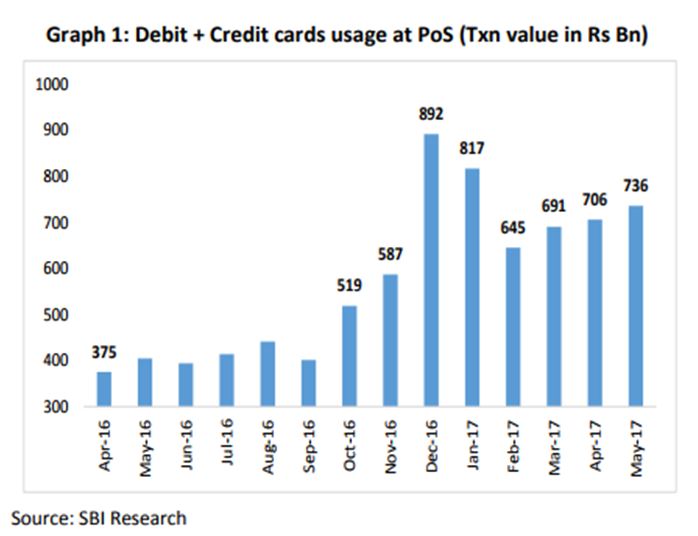 Figure 2 – Credit card payments, April 2016-May 2017, in billions of rupees. Source: Ultra news
It comes as no surprise that drastic changes, either to such habits or to the structure of the Indian economy, cannot be made in just a few months or through a simple government plan. Efforts are still needed to ensure that these economic and financial technologies reach the most disadvantaged levels of society. Nonetheless, a process has been engaged whose full effects can only be evaluated in five or ten years, or even a generation's time (twenty years). In this dynamic, the younger generations should serve as a fundamental lever and Narendra Modi is well aware of this.