We anticipated this in May[1]: good news abounds in the eurozone, notably for the economic matters, with a "recovery" making Mr. Trump and Mrs. May jealous[2]. This even encourages the ECB to consider reducing its quantitative easing programme earlier than expected, namely in January[3], before halting it in September 2018. Investments go up, unemployment declines[4], and surprisingly enough, so does the public debt…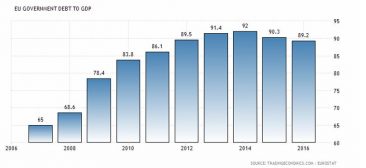 Figure 1 – Eurozone public debt to GDP, 2007-2016. Source: Trading economics.
So, is everything going well in Europe? As we also analysed it in our May bulletin, this is a rather hasty conclusion which does not stand up to the facts, as there is still a long way to go to consolidate the situation and investments. And much of this good news is due to the European media narrative takeover highlighted by us back in May as well.