Since November 8, 2016, India has created a monetary revolution of a magnitude never seen, both by the size of the population concerned and the depth of the transformation induced. By demonetising the biggest notes of 500 and 1000 Rs (rupees), the Indian government is trying to reintegrate into the official economy the state's gigantic parallel (or black or more simply the archaic) economy. In a nation where 90% of the transactions are made in cash, a huge part of the financial activity escapes the knowledge of the central government, and therefore statistics, taxes and infrastructure financing.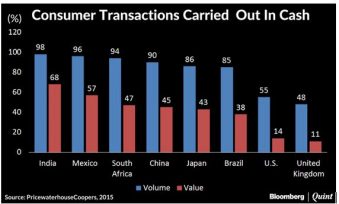 Blue: volume; red: value. Source: Bloomberg.
Warning signs
There is nothing new in the fact that the central government tries to force its population to declare their wealth. For example, between 1951 and 1997, no less than ten amnesty projects had been launched, encouraging citizens to declare their unofficial income in exchange for a simple payment of some increased tax[1].