One of the major challenges of our next decade will almost certainly be the relationship between nation states and the world's major tech groups, known as GAFAM (Google, Amazon, Facebook, Apple and Microsoft). These companies are indeed extremely important within the global economy and they are becoming entities able to compete with and make an impression on the nation states. Their cumulative turnover for 2018 has reached 645 billion dollars, a figure close to the Swiss GDP, with net profits of 130 billion dollars.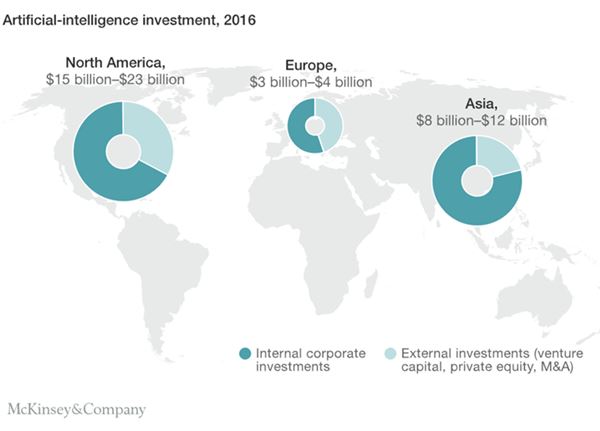 Figure 1 – AI internal corporate investment share in 2016 vs. external investments for 3 continents: USA / Europe / Asia (McKinsey, 2017)
These corporates have recently been investing huge sums in artificial intelligence, at levels most countries are unable to keep up with. In 2018, the tech giants invested no less than $100 billion in such projects.[1] Given the importance of data in the future economy, this development difference may make individual nations strongly dependent on these groups.
In a recent book, the economist Mariana Mazzucato has shown how much GAFAM owe to public research,[2] yet they have forged their power largely on tax optimisation and legal loopholes, especially those relating to the data issue. Faced with this new economic power, nation states seem to have realised the need to put limits on it. In this respect, 2018 marked a turning point. Recently, in his manifesto addressing Europeans ahead of May's European elections (which marked his entry into the campaign), Emmanuel Macron, the President of the French Republic, connected the 'need to keep Europe alive' to the one to 'face those digital giants'.[3]
In this article, we will be evaluating the chances of success of the different plans for the taxation of GAFAM, knowing that the solution that will ultimately be put in place will tell us a lot about the principles of supra-national governance in the 21st century.
The issue is, therefore, of sheer importance…
GAFAM facing mistrust 
Among these GAFAM members, Facebook is probably the group that has experienced the most difficulties in 2018. Following the Cambridge Analytica scandal, where it was reported that Facebook had allowed a British company to siphon user data on behalf of Donald Trump's campaign teams,[4] a new privacy scandal hit the company later the same year.[5] These elements of weakness have been used by the US authorities to hold Facebook, but also Google and Twitter, to account for their ability to control the spread of fake news and for attempts to manipulate the US presidential campaign in 2016. The main leaders of these groups, including Facebook boss Mark Zuckerberg, were made to apologise in front of the Senate, which was critical of 'late and uncoordinated' responses.[6]
Recently, Elizabeth Warren, candidate for the US presidential campaign of 2020, also attacked GAFAM, talking of 'dismantling' those giants… and she is far from being the only one.[7] Such criticism has also emerged in Europe, particularly in France, where Emmanuel Macron continues to blame social networks for being a source of difficulties. He even proposed a permanent European agency for the 'defence of democracy' to control the spread of fake news on these networks.[8] Hence a desire is currently emerging to control politically the content and methods of GAFAM, whose model is based on an exhaustive and indiscriminate collection of data. Concomitantly, other nations have started to react, albeit timidly, but with unprecedented determination.
First, there was the record 4.34 billion euro fine imposed on Google in July 2018 by the European Commission for preventing competition with its Android operating system.[9] That fine followed closely on the one already inflicted on Google in 2017 (2.42 billion euros).[10] In 2018, Apple also finally had to return 15 billion euros to Ireland, despite Dublin's long refusal to consider illegal, in accordance with the 2016 Brussels decision, the tax benefits granted by Ireland to the company over the past ten years.[11]
Finally, in January 2019, to everyone's surprise, 127 countries agreed that, by 2020, these groups would pay taxes in countries where they actually make profits. The OECD will make the relevant proposals to the G20 countries.[12] The goal is to put in place a minimum tax. In the meantime, some countries, such as France[13] and Spain, have implemented local and quite unambitious GAFAM taxes to pave the way, which will disappear once the global agreement has been reached. Other countries, such as Austria and Italy, plan to follow the same lead. It seems that tolerance of the aggressive tax optimisation strategies of these corporations is coming to an end. The United States intends to recover some of the corporate tax cuts granted under the Trump plan, while the Europeans are still looking for funding to boost growth that remains desperately low.
Globally, from being models to follow, GAFAM have now become the black sheep that almost all states now want to bring into line. But it's not that easy. Because the latter have woken up late and their counter-offensive is relatively weak and chaotic.
A high capacity for resistance
Concerning GAFAM taxation, it is still difficult to determine what form the minimum tax targeted by the OECD is likely to take. There is not much room for manoeuvre because the economic model of several countries depends on their ability to attract GAFAM members. This is particularly the case for Ireland, which blocked the possibility of a European tax[14] and could argue for a minimal agreement that preserves their advantages in this field. In September 2017, the Irish Budget Council warned that a European tax on GAFAM was a 'bigger threat to Ireland than Brexit' and could cost the country's budget up to €4 billion in lost corporation tax.[15] On account of this, Ireland rejected this project – and won. And, from a position of strength, it may well play the same role with the OECD. The free movement of capital in the EU gives those not playing the game a certain advantage.