Here we present the latest addition to our Bricks of the future section: The Who's Who? Or People of the future. Just as organisations have a vocation to stabilise at the risk of obstructing the future, human beings have a vocation to activate at the risk of destroying the future. It is therefore time for the GEAB to take a more resolute look at the shapers of our tomorrow.[1] For this first edition, we have chosen two personalities: Alexandria Ocasio-Cortez (US) and Mukesh Ambani (IN).
Alexandria Ocasio-Cortez, the AOC of the new American political elite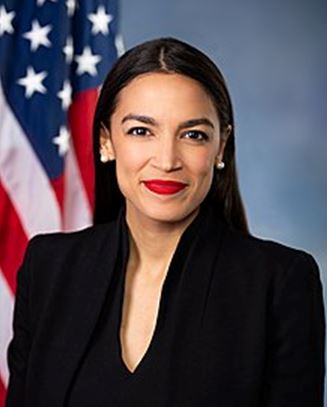 Why her? Why AOC? More than 20 millennials (born between 1981 and 1996) were elected to the United States Congress in November 2018 like for example: Tulsi Gabbard, the first Hindu-born and first Samoan woman elected to Congress; Ilhan Omar, a Somali-born Muslim who wears a hijab and does not hesitate to openly criticise US political support for Israel and Saudi Arabia;[2] Lauren Underwood, the youngest black woman in Congress; Abby Finkenauer (another 30-year-old); and, in the Republican camp, Elise Stefanik, re-elected in 2018, who was the youngest person elected to Congress in 2015… In other positions, there are also Pete Buttigieg (37), elected at 33 years of age as the first gay mayor of a midwestern city;[3] and the independent Latin American Raquel Castaneda-Lopez (33) in Detroit.[4] …So many figures of a new young, diversified, globalised America.